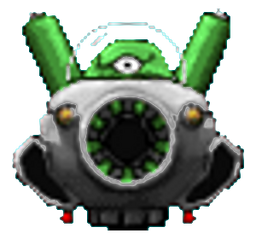 Flemoidus Cycloptis Ultricus was given to the Chex Quest community by Charles Jacobi in honor of Chex Quest's 10th anniversary.
The Super Cycloptis represents an official Cacodemon replacement! The fans struggled to make a name until a poll was run, which decided that Flemoidus Cycloptis Ultricus would be its Latin name and Super Cycloptis be its common name. It appears in Chex Quest 3 exclusively as Super Cycloptis.
Cacodemon
Edit
The Cacodemon is one of the original Doom enemies that wasn't replaced with a flemoid sprite. They do not appear in the normal Chex Quest Game, nor within anywhere inside the first episode. The originals resembled a large red floating gasbag, with one eye and a long row of sharp teeth.
In Chex Quest 3, the Cacodemon is replaced with the Super Cycloptis.
DECORATE
Edit
ACTOR SuperCycloptis replaces Cacodemon 4005
{
	Game Chex
	SpawnID 19
	Health 400
	Radius 31
	Height 56
	Mass 400
	damagefactor "Flem", 0.0
	Speed 8
	PainChance 128
	Monster
	+FLOAT +NOGRAVITY +DONTFALL
	+DONTGIB
	//+NOBLOODDECALS
	SeeSound "caco/sight"
	PainSound "caco/pain"
	DeathSound "caco/death"
	ActiveSound "caco/active"
	Obituary "$OB_SUPERCYCLOPTIS"
	States
	{
	Spawn:
		HEAD A 10 A_Look
		Loop
	See:
		HEAD A 3 A_Chase
		Loop
	Missile:
		HEAD B 5 A_FaceTarget
		HEAD C 5 A_FaceTarget
		HEAD D 5 A_CustomComboAttack("CycloptisBall", 32, random[headattack](1,6)*10, "", "flem")
		Goto See
	Pain:
		HEAD E 3
		HEAD E 3 A_Pain
		HEAD F 6
		Goto See
	Death:
		HEAD G 8
		HEAD H 8 A_Scream
		HEAD I 8
		HEAD J 8
		HEAD K 8 A_NoBlocking
		HEAD L -1 A_SetFloorClip
		Stop
	Raise:
		HEAD L 8 A_UnSetFloorClip
		HEAD KJIHG 8
		Goto See
	}
}