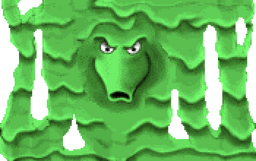 The Flembrane is the final boss of Chex Quest. Right when you thought it was safe to venture into the depths of the caverns of Bazoik... this guy shows up! And he's not too happy of the job you've done with his place! You better be packing heat if you're thinking about fighting him!
In the upcoming Chex Quest: Extended Features, the Flembrane can morph into a worm-like shape with tentacles.
The Flembrane is based on the Baron of Hell, but slightly modified in that he cannot move around.
DECORATE
Edit
ACTOR FlembraneV3 : FlemoidusMaximus 69
{
	Game Chex
	SpawnID 113
	Health 1000
	Radius 64
	Height 64
	Mass 10000
	Speed 0
	Obituary "$OB_FLEMBRANE"
	States
	{
	Spawn:
		FLMB AB 10 A_Look 
		Loop
	See:
		FLMB AABBAABB 3 A_Chase
		Loop
	Melee:
	Missile:
		FLMB EF 8 A_FaceTarget
		FLMB G 8 A_CustomComboAttack("MaximusBall", 32, random[headattack](1,8)*10, "baron/melee", "flem")
		Goto See
	Pain:
		FLMB H  2
		FLMB H  2 A_Pain
		Goto See
	Death:
		FLMB I  8
		FLMB J  8 A_Scream
		FLMB K  8
		FLMB L  8 A_NoBlocking
		FLMB MN 8
		FLMB O -1
		Stop
	Raise:
		FLMB O 8
		FLMB NMLKJI  8
		Goto See
	}
}