This article is a stub. Please help the Chex Quest Wikia by adding to it.
Villa Chex is the third level in Chex Quest 3.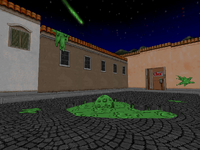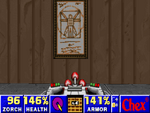 Walkthrough
Edit
This section is empty
Secret areas
Edit
Secret area 1
Edit
Part A: After opening the blue access door, you walk through a series of doors. You enter into a large garden. In order to access the secret area you must open a door located in a sewer pipe on the left side of the garden (see part A)
Part B: After opening the red access door you enter a room with a hole in the floor. Go down the hole. You are now in slime filled underground hallway. Soon you will see the door you opened earlier which reveals a slime-proof suit. (see part B)
Secret area 2
Edit
After opening the yellow access door you enter a room, on the left side of the room you will see a picture. Open it. You enter a narrow hallway with a door at the end of it. Open the door and you find a phasing zorcher pack and a laz device.
Par time: 6:00
Community content is available under
CC-BY-SA
unless otherwise noted.