The Cinema is the second level of Chex Quest 2. Fans have mixed feelings about this level.
Walkthrough
Edit
Exit the room you are in, and walk down the street. Enter the grate on your right side. Go down the air duct, and press the switch in the room at the end. Go back out, and enter the cinema. Go down the hallway behind the snack stand, and go down the elevator. Press the switch, then go back up. Go inside the ticket booth, and get the blue key. Go back down the hallway, and enter the blue door closest to you. Head across the theater, and pick up the red key. Go back out into the street, and enter the door that opened on your right. Grab the yellow key, go back in the cinema, and enter the yellow door. Go forward, turn right, enter the room ahead, and press the switch.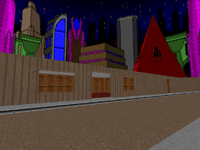 In the air duct near the beginning, the room on the right counts as a secret area. There is a box of large zorch inside.
Statistics
Edit
| | |
| --- | --- |
| Things | 96 |
| Vertexes | 670 |
| Linedefs | 859 |
| Sidedefs | 1376 |
| Sectors | 212 |
Commonus
50
Bipedicus
11
Larva
3
Quadrumpus
2
Slime repellent
1
Bowls of fruit
1
Bowls of vegetables
1
Large Zorchers
1
Box of Mini Zorch
1
Box of Large Zorch
2
Zorchpacks
1