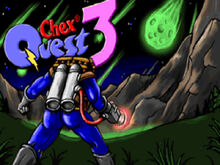 Chex Quest 3 is the newest edition to Chex Quest, created by original Digital Café team member Charles Jacobi. Only one map was planned originally, but Charles got more into making his map, and he announced in June 2008 that he was creating a full sequel, with much cheering by fans. It also includes improved versions of Chex Quest and Chex Quest 2. It was released in September of the same year.
Despite what is commonly reported on gaming websites such as 3d-ShooterLegends and GameFAQs, this game is of no relation to Chex Quest 3, nor is that a beta version of this game. The other Chex Quest 3 was a fan-made sequel released in 1998.
Chex Quest 3 received a Cacoward in the 5th Annual Cacowards of Doomworld. Chex Quest 3 is the first Chex Quest mod to receive a Cacoward.
You can see the article here.
The latest version is 1.4, released on 25 June 2009.
ZDoom is one of the most popular Doom source ports and the way by which Chex Quest 3 runs. This source port has support for IWADs on the Doom engine officially released by id Software such as Doom, Doom II, Heretic, Hexen and Strife. This source port is even geared to emulate the original executable for Chex Quest.
It could prove beneficial to the community to list any Chex Quest game wads that use this engine.
External Links
Edit
Community content is available under
CC-BY-SA
unless otherwise noted.